DETAILS 
The Falcon Air inflatable raceboards are designed for intermediate to experienced paddlers who want to focus on paddling speed, training & covering long distances; but want to avoid the hassle of transport, storage & handling that comes with a composite raceboards. All four sizes of our lightweight race traveller have a new more performance-orientated shape, with a narrower tail – featuring silicone rail edges – to increase top speed and maximise gliding efficiency. The generous flotation and ultra stiff, lightweight Double Layer Premium technology ensures they are rigid and direct on the water, with a super stable stance. Ideal for either flat water or down-winders on open-ocean, they are ready to race!
RACE
SIZES: 12'6″X26.5″ /12'6″X29″ /14″X26.5″ /14′"X29″
FEATURES
Stretched and narrow outline with a new narrower tail for clean and fast waterline/efficient strokes
RTM race fin with Click Fin system – fit and remove in seconds
Integrated deck net to attach luggage
Silicon rail edges for better release and reduced drag
Diamond grooving footpad for the ultimate grip and comfort
Soft and comfortable carrying handle
High quality towing eyelets
DL LIGHT: DOUBLE LAYER LIGHT TECHNOLOGY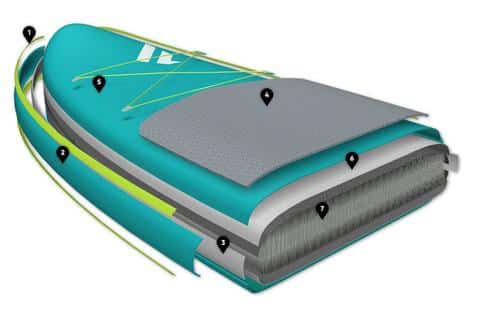 Extra rail-band reinforcement
Second thin PVC rail layer
First PVC rail layer
Diamond grooving footpad Light and printed
Tarpaulin layer First Tarpaulin layer
V-Drop Stitch core
The Double Layer Light technology is our Premium construction. Featuring a second PVC layer, which is welded directly to the core layers and around the V-Drop Stitch material – the heart of each Fanatic Inflatable. An additional third layer of coloured rail bands round off the highly durable and premium quality, with stylish optics of the deck print.
The benefits of the Double Layer Light construction when compared to the standard Double Layer technology is a 20 – 25 % reduction in weight, and around 25 – 30 % increase in stiffness. Simply the best inflatable technology out there!
ACCESSORIES
Wheely Backpack with padded shoulder straps plus hip- and chest belts for effortless packing and transportation of the board and all accessories.
Fanatic Power Pump HP2 for fast and comfortable inflation
SPECS
BOARD
FALCON AIR PREMIUM 12'6″X 26.5″
FALCON AIR PREMIUM 12'6″X 29″
FALCON AIR PREMIUM 14'0″
X 26.5″
FALCON AIR PREMIUM 14'0″
X 29″
VOLUME
280 L
296 L
312 L
333 L
WIDTH
26.5″ / 67.3 CM
29″ / 73.7 CM
26.5″ / 67.3 CM
29″ / 73.7 CM
LENGTH
12'6″ / 381 CM
12'6″ / 381 CM
14'0" / 426.7 CM
14'0" / 426.7 CM
THICKNESS
6″ / 15 CM
6″ / 15 CM
6″ / 15 CM
6″ / 15 CM
WEIGHT
10.30 KG
10.45 KG
11.30 KG
11.50 KG
FITTINGS
1X US BOX / 1X RACE AIR
20 CM
1X US BOX / 1X RACE AIR
20 CM
1X US BOX / 1X RACE AIR
20 CM
1X US BOX / 1X RACE AIR
20 CM
RECOMMENDED USER WEIGHT
UP TO 85 KG
UP TO 95 KG
UP TO 85 KG
UP TO 100 KG
ARTICLE NUMBER
NO
NO
NO
NO